Okay Donkey Newsletter
Hi, folks!
Welcome to Okay Donkey Press's first e-newsletter! Now that OKD is growing as an organization, we're thinking we should start sending out a bimonthly missive about what's happening over at OKD headquarters.
First off, we want to welcome aboard all of our new Associate Editors for both the Magazine and the Press. Many congrats to Matt Broaddus, Joaquin Fernandez, Tea Franco, and Elizabeth Upshur! You can read all of their bios on our brand new masthead page on the website here: http://www.okaydonkeymag.com/masthead
We also have our first poetry reading coming up soon on Saturday, August 8th at 4:00 p.m. PT / 7:00 p.m. ET. We've got such a great line-up of talented folks, including Todd Dillard, Roy G. Guzman, Chloe N. Clark, Jose Hernandez Diaz, Ben Kline, Courtney LeBlanc, and Christine Taylor! Be sure to be there!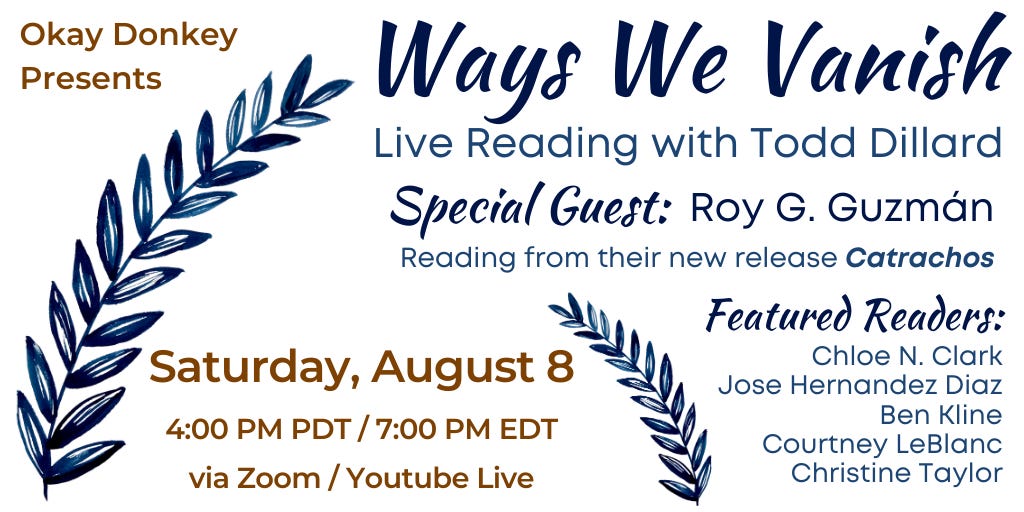 In addition, we've gotten our first review for our new fiction book, Tara Isabel Zambrano's DEATH, DESIRE, AND OTHER DESTINATIONS up at Smokelong Quarterly. You can check it out here: http://www.smokelong.com/review-death-desire-and-other-destinations-by-tara-isabel-zambrano/.
Finally, we're holding our first open poetry manuscript submission period from August 1st to August 15th, 2020. You can find more details about it on our website here: http://www.okaydonkeymag.com/submissions.
Be sure to subscribe now for more OKD Press updates!